Here's my cherry popping TMI, so please, be gentle.
Warning: R+ rated for fuckin foul language & shit talk. Not exactly a Sanchez post
TMI Thursdays sponsored by the queen of sharing your shit or someone else's, momma Lilu: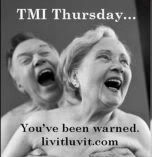 Well well well ...
It is about time I write my very first
TMI

 post.
At least
porky
thinks so since he's always asking, begging, pleading and attempting to corrupt me into writing TMI things, but I'm too propper for that so imma talk about someone else instead:
aaaaaaand so it begins:
Let me catch you up to speed .. I work in an office full of men, and one other "woman" aside from lovely ME.
I say "woman"
because
she is more like an amazon nasty
ass
 beast whom we shall appropriately nick name Medusa. She is like a black widow I tell you, crazy crazy and MEAN with her poisonous scorpion tail.. GASP
OHHH
that
bitch!
 ...
OK so check it out .. we have a nice little nonchalant ladies room here .. yes.. a pisser room.. ya know??
RIGHTYO
then ...
It just so happens that Medusa likes to drop the atomic bombs here at work , and I mean ATOMIC! ok?. I have walked in there after her and my eyes would well up with tears, real live tears, get green in the face and have to walk the f*ck back out ..
GAwww,
can't a girl go pee when she has to ??
Nooo,
not here. There are only 2 potty rooms here... the boys and the girls potty.
Sometimes since there are more boys then girls, the boys will overflow into my bathroom , those testosterone
bitches, 
but when they do,  they have come to talk morning
shit
with me (not literally like Medusa's) and we hash over her toxic
ass
 droppings.
I have gone in there many a day when she has decided to grace the
porcelain
 God with her presence & said "
ohh
mother of the baby J
esus
of all the things unholy !! " *gag*... *double gag*
Co workers and I have feebly attempted to mask this stench that carries out into the hallway with plug ins . Well as soon as she sees one in there she removes and hides it.  We have numerous cans of
Lysol
 F
ebreeze
and such sprays which she wont use. We have a fan in the bathroom which she wont turn on. It makes you fucken wonder who the hell could live
with
that!! (as in with her)

I am currently googling masks to survive my daily pee runs.

The floaters this woman leaves! There's something called double flush, for the love of Captain Hook !!!!
I mean do you truly have no
couth
?
I think pranks are rightfully in order after enduring 3+ years of this hellish, subliminal office scat session.
OK  
mofo
head biter on
TMI
Medusa's
shyt
out , peace yo.

...and may you never endure this lack of personal hygiene!